August 22, 2019 / Shelby White
Three budget-friendly vacation ideas
Ah, summer. The season of warm weather, long hours of daylight and of course, vacations that drain our pocketbooks.
But what if there's nothing in those pocketbooks to begin with? Or, maybe there is, but we'd keep as much as we can, thank you very much. Can the budget-conscious people of the world still enjoy a summer vacay?
The answer is yes. Yes, we can. Here are three, low-cost vacation ideas for you, my comrades on a budget.
Take a road trip.
Who doesn't love a good road trip? Skip expensive airfare and hit the road instead. It's a great opportunity to see the country at your own pace. Map your route ahead of time to control spending and be sure to factor costs for reasonable lodging, food and gas into your budget. Go somewhere close by to save on gas.
Enjoy a staycation.
A staycation is exactly what it sounds like: a vacation at home. You don't have to get out of Dodge to have fun. Hang out at a nearby winery or brewery. Go to a local art festival. Attend a community theatre production. Visit a museum. Sleep in, put your phone on silent and avoid your email – after all, it's a vacation! Just one you can enjoy from the comfort of your own home.
Visit a national park.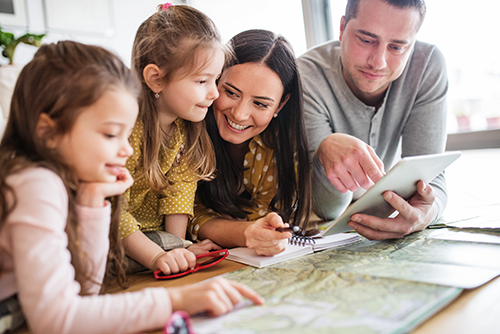 If you're an outdoor enthusiast, nothing beats visiting one of the country's many national parks. Explore hiking trails, guided bike tours, scenic drives, historic geographic attractions and beaches at little-to-no cost. What's more, it doesn't get much cheaper than camping! You can save a ton on room and board by spending the night in your tent or RV rather than staying at a hotel. Instead of eating out, hit up the local grocery store and cook your own meals.
And really, if all you want to do is sit in the sun with a drink in hand and cellphone out-of-sight, why should you spend thousands of dollars on a glamorous vacation? The true thrill is the freedom to do absolutely nothing.
Shelby White is the Corporate Communications Officer at F&M Trust.
Join our e-newsletter
Sign up for our e-newsletter to get new content each month.