October 14, 2021 / Erin Sunday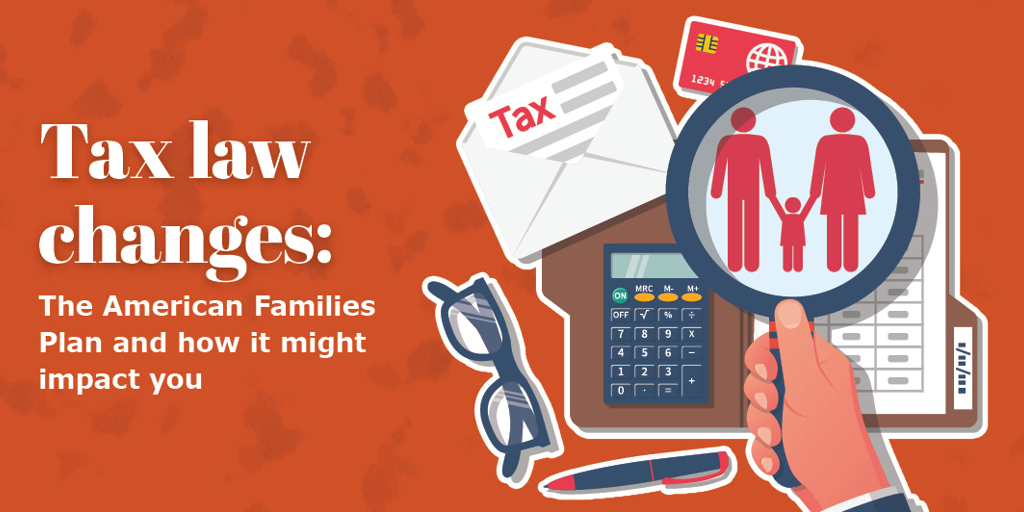 Tax Law Changes: The American Families Plan and how it might impact you
President Biden's ambitious American Families Plan is billed as "an investment in our kids, our families, and our economic future." That investment comes to life in the form of programs designed to help families cover the basic expenses with which so many struggle, lowering health insurance premiums, and continuing the American Rescue Plan's historic reductions in child poverty.

Here's a look at just a few ways the American Families Plan will accomplish those goals. (Please note that these measures are, for now, only proposals, and are subject to change before the American Families Plan is approved by Congress.)

Tax Credits

The Child Tax Credit will be expanded from $2,000 to $3,000 per child ages 6 to 17 with an additional $600 credit for children younger than 6 through the year 2025.
The EITC (Earned Income Tax Credit) offers relief for low- to moderate-income workers. The American Families Plan will extend the provisions under the American Rescue Plan by offering credit between $538 and $6,660, making permanent the credit for childless workers, expanding the program to workers between the ages of 19 and 25, and removing the maximum age for eligibility.
The Child and Dependent Care Tax Credit will offer a 50% reimbursement through a tax credit of up to $4,000 for one child, and up to $8,000 for two or more children on qualified childcare (children must be under age 13).
Health Insurance Tax Credits will provide premium relief to lower health insurance costs. The measure is estimated to help 9 million people to reduce costs and enable 4 million uninsured to gain coverage.
Education

 The American Families Plan makes an ambitious proposal by offering free, high-quality preschool to all 3- and 4-year-olds, benefitting 5 million children and saving the average family $13,000. (Studies have shown that the benefits of a universal pre-K system to the U.S. GDP are more than three times greater than the investment.)
The plan also proposes two years of tuition-free community college for all interested Americans as well as teacher scholarships for those earning a bachelor's degree in pursuit of a career as an educator or to become an early childhood educator.
Nearly 7 million college students rely on Federal Pell Grants, and the plan will make an $85 billion investment in the Pell Grant program to help the grants keep up with the rising cost of education.

Child Care

The American Families Plan aims to expand access to high-quality childcare by providing support to ensure that low- and middle-income families spend no more than 7% of their income on care.

Paid Family and Medical Leave

To be in line with other nations, the plan creates a national comprehensive paid family and medical leave program. The program proposes 12 weeks of paid parental, family, and personal illness/safe leave by year 10 of the new program (up to $4,000/month).

Nutrition Assistance

Nutrition insecurity disproportionately affects low-income families. To help, the plan offers nutrition assistance to low-income families with children, and access to healthy meals to students to combat childhood hunger.

The plan will provide meals to students over the summer and offer free meals to all students in high-poverty schools.

Erin Sunday is the Vice President, Investment & Trust Services Relationship Manager at F&M Trust.
Join our e-newsletter
Sign up for our e-newsletter to get new content each month.